"Winning through Development"
Registration Link for 2008/ 2009 Season
Inaugural Female Provincial Champions
Our Hawks Atom Female Team are Provincial Champions. The Hawks won the first ever Provincial tournament held for Atom Female Hockey; Pictou County was the host for this inaugural Atom tourney. Halifax defeated Eastern Shore 6-3 in the final game to take the banner which capped off a very fun-filled and successful year for the girls.
Female Atom Provincial Champions 2008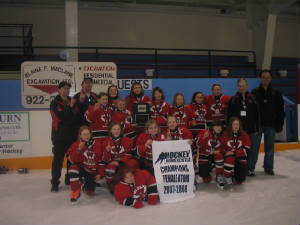 2008 Bantam AA Provincial Champions – Halifax Hawks

This Team hosted the Provincial Championships at the Centennial Arena. They defeated the South Colchester Minor Hockey Association – Brookfield Bantam AA Elks 4-3 to win the championship. The Hawks only defeat was in overtime.
Bantam AA Provincial Champs 2008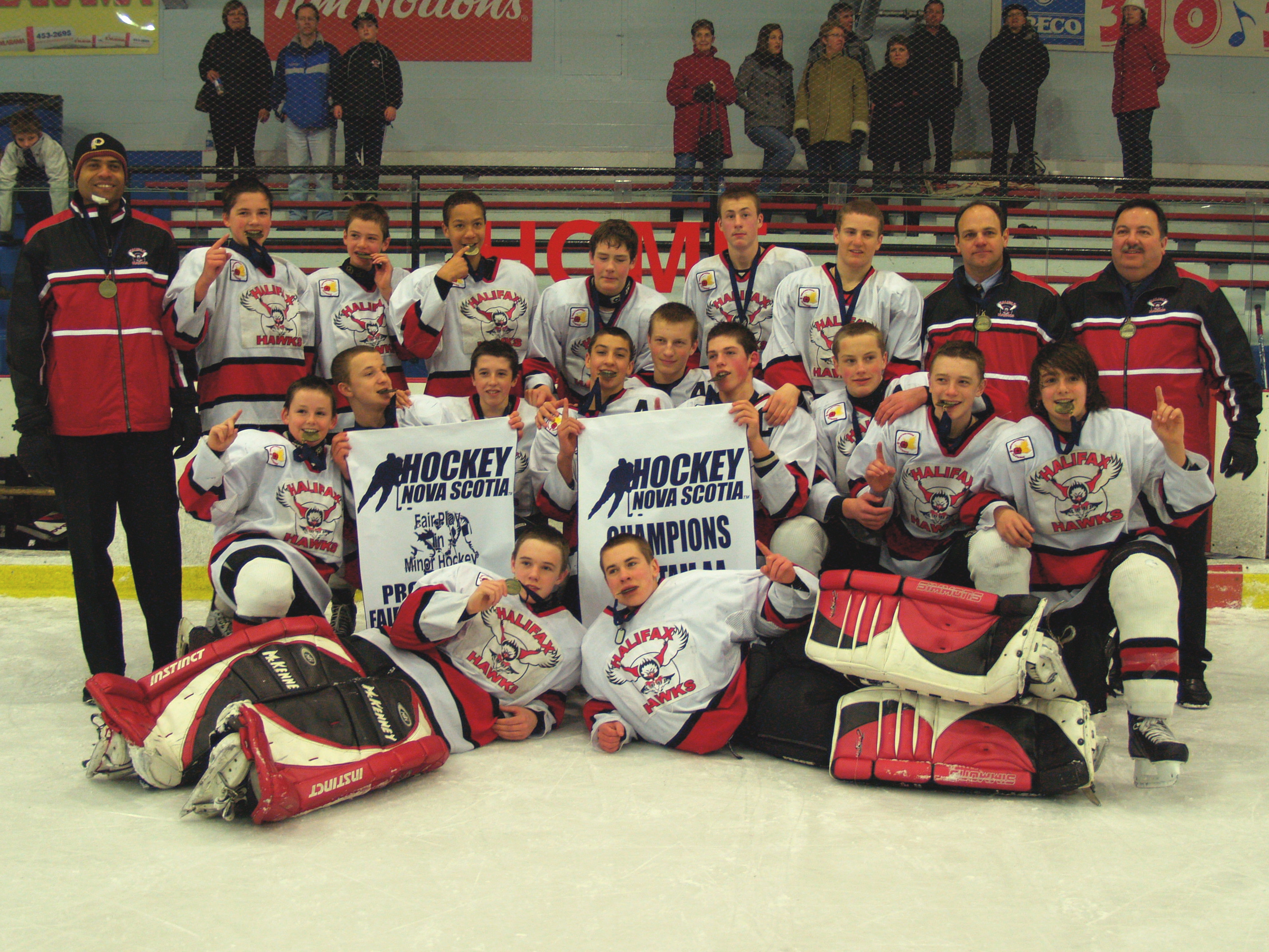 HALIFAX HAWKS PEE WEE AAA PROVINCIAL and ATLANTIC CHAMPIONS 2008

Halifax Hawks game star and goaltender Jack Flinn had the shutout as the Halifax Hawks went on to defeat Hockey NB KV Vito's Rangers 4-0 in the Championship of the Aliant Atlantics AAA Hockey Championship
Pee Wee AAA Atlantic Champions 2008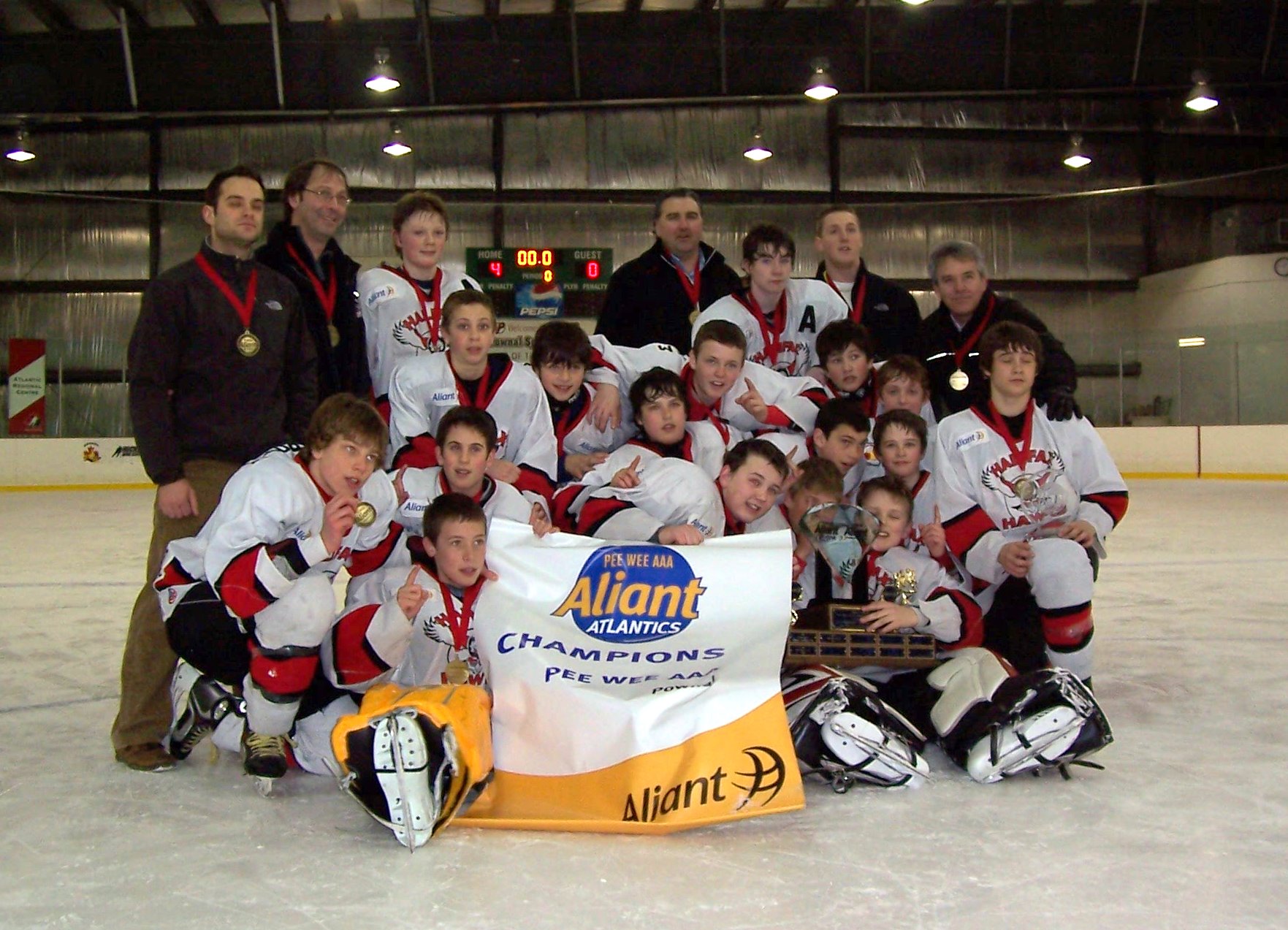 Atom AAA PROVINCIAL CHAMPIONS 2008
What a year it has been for the Halifax Hawks Atom AAA team. They have succeeded in winning five out of six tournaments and the City Championships. Two of the tournaments they have one this year include the Spud tournament regarded as the toughest to when at the Atom AAA level, and just recently, the Sedhma tournament. They can know add "Provincial Champions" to their list of accomplishments. The traveled to Sydney to compete for Provincials and went 6-0 winning the championship game 5-0 versus the host team Sydney Miners.
Hawks Atom AAA Provincial Champs 2008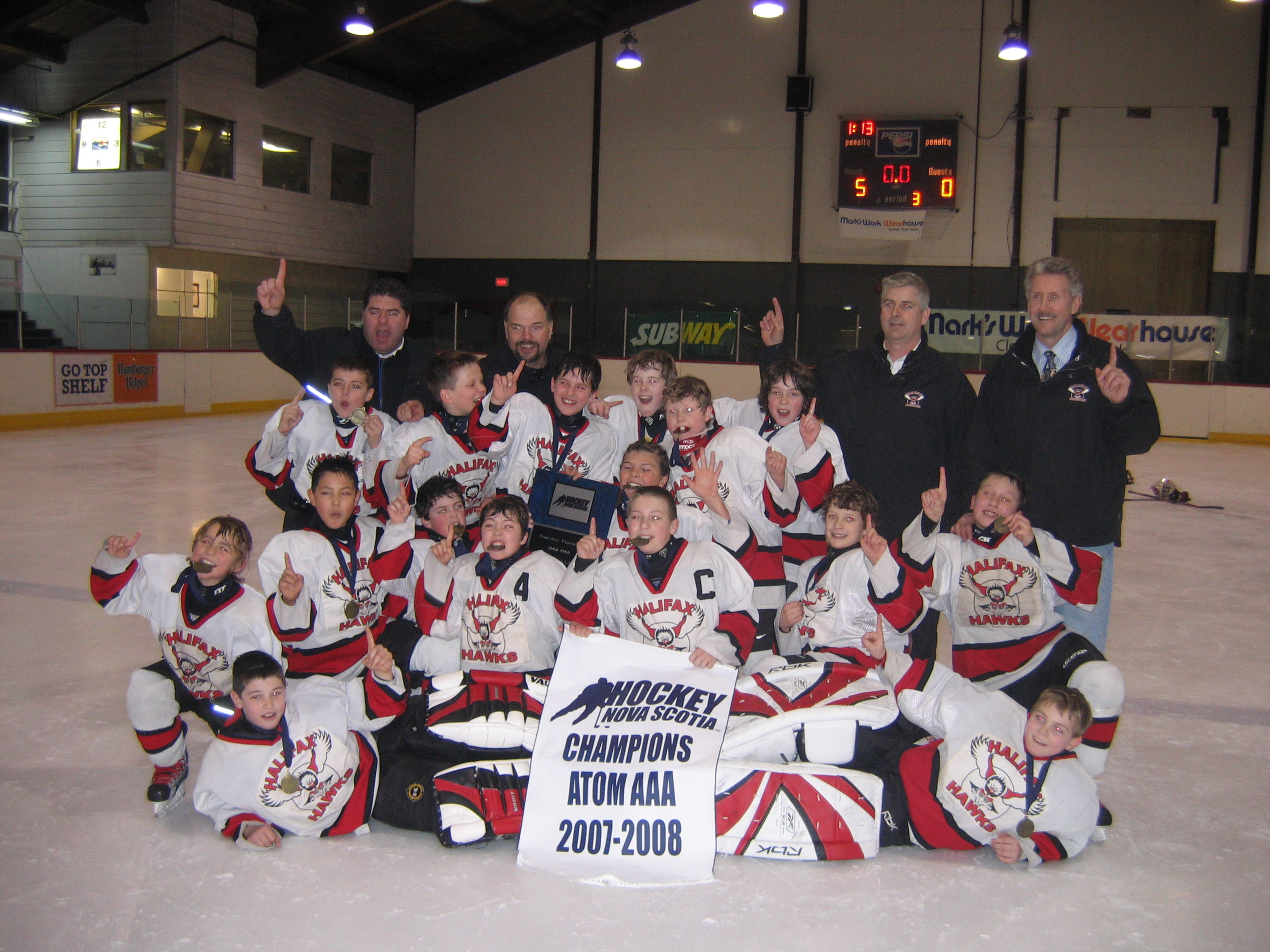 CMHF Midget AAA Champions
2008-03-24
Halifax Hawks win First Annual Reg Sweeney Memorial Cup for CMHF Midget AAA Tournament of Champions

Congratulations to the Midget AAA Team who defeated the East Hants Penguins 6-4 at the Tournament of Champions at Tasa Fountain on March 24, 2008.
CMHF Midget AAA Champs 2008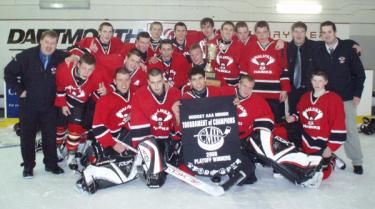 MMHL CHAMPIONSHIPS March 21/22 !!
Halifax Hawks Minor Junior Team have WON their MMHL Championship defeating Chebucto Atlantics 7-6 in the Final March 21
Halifax Hawks Midget Team won Silver in their Final on Friday ,March 22 . They played hard with a short bench, due to school trips etc, but were unable hold off the wrath of East Hants Wild
GO TEAMS !!!
2008 Halifax Hawks Pee Wee "A" gain International experience and friendships twice in 2008 !

1/ Halifax Hawks Pee Wee "A" travelled to Atlanta Georgia in February to compete in a 3 game series against the Junior Thrashers. The Hawks completed the series winning the 3rd game in an overtime shootout. (see picture 3 ).

2/ The semi final game of the SEDMA Odyssey, Halifax Hawks Pee Wee "A" faced Serbia UK. The Hawks defeated Serbia 2-0 and advanced to the Championship game. (see picture 2)

3/ 2008 Halifax Hawks Pee Wee "A" defeated Shelburne 6-1 in the SEDMA championship game to win Odyssey Gold. (see picture 1) Pictures to follow shortly
Peewee A in Atlanta Ga. 2008